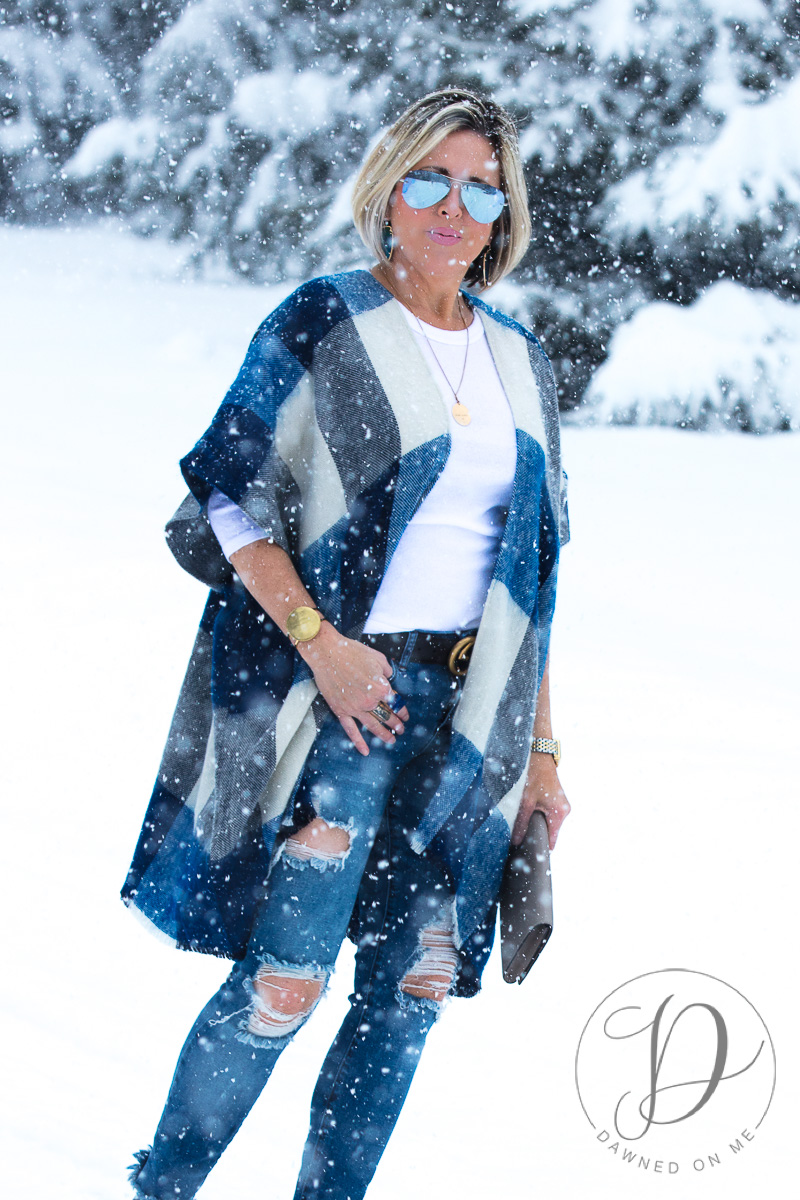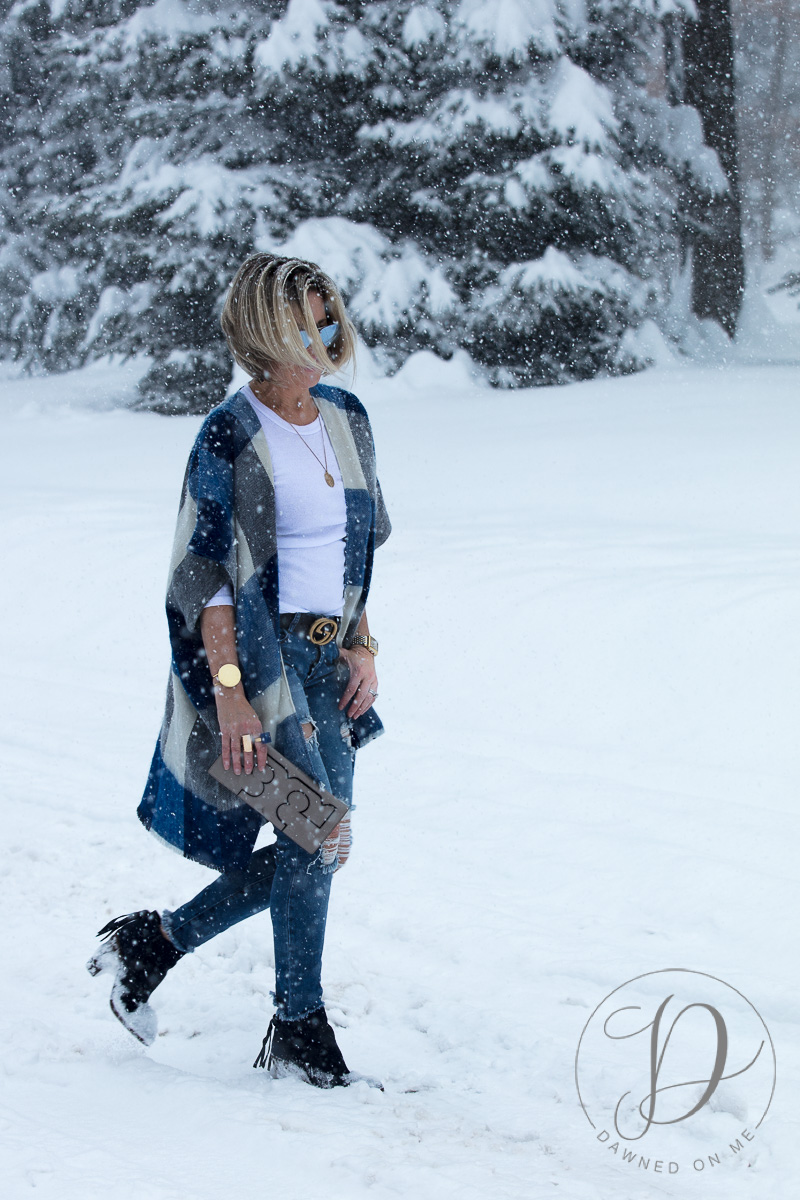 Told ya so last post!  Friday was a total snow day!  No question!  We didn't even set an alarm.  We knew this system snow was going to be a doozie and everything would be closed!  We got over a foot of snow since Thursday night!  It's such a beautiful winter wonderland here in Southwest Michigan!  Between plowing our long driveway, I talked Bill into shooting this look for me.  It was coming down ALL day!  There was never a break. We never moved so fast!  The snow was coming down so hard that I was covered in seconds and had to keep shaking it off myself!  Maybe not such a good idea after all! Ha ha!
Remember my LOFT fleece cardigan from this blog post?  Well, when I was in the store a couple weeks ago to make an exchange, I spotted this buffalo plaid poncho.  You typically see buffalo plaid in black and red, but I thought the combination of blues in this piece were stunning! Don't you?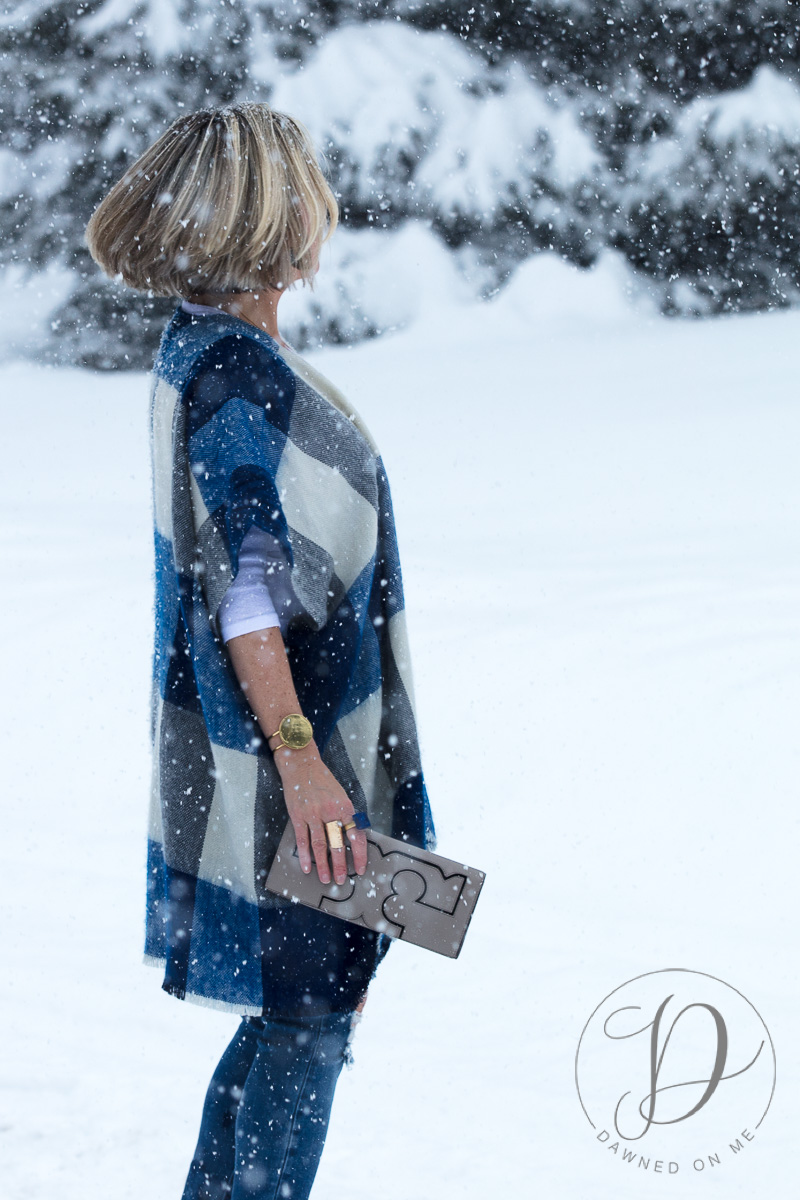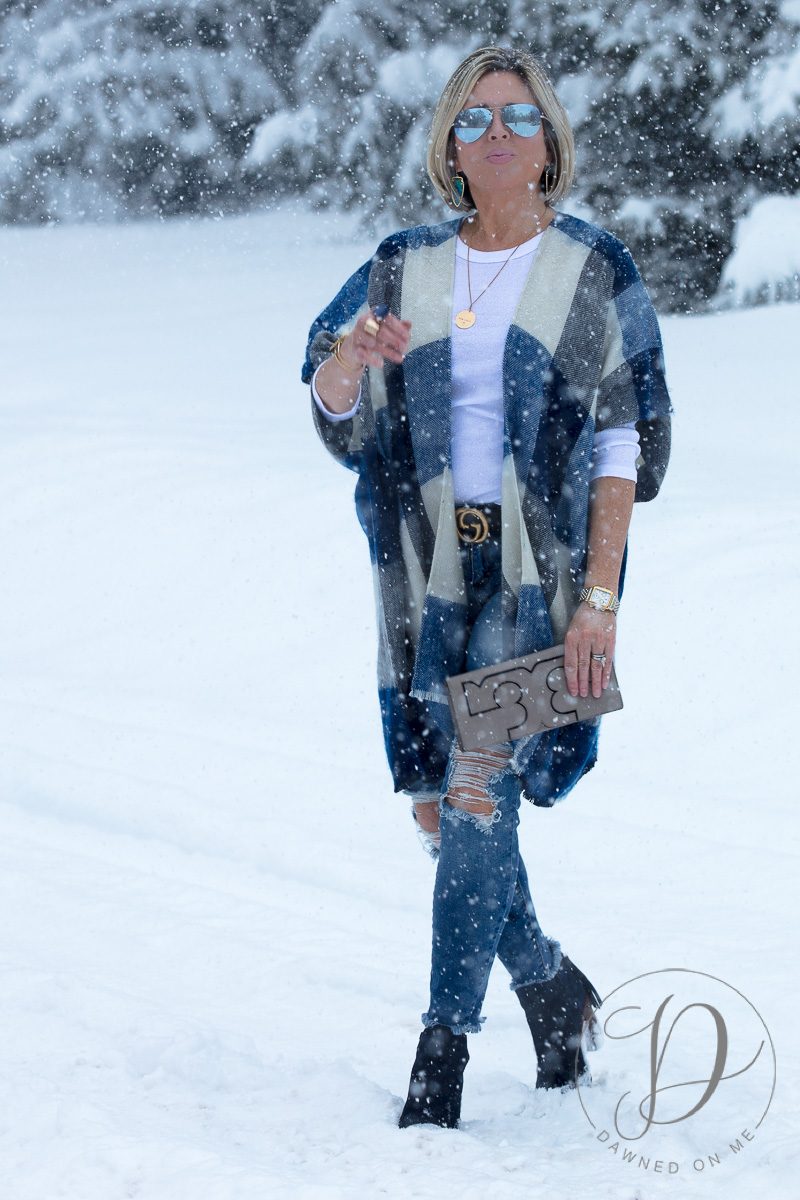 I've been meaning to also tell you about the fantastic T-Shirt I'm wearing under this buffalo plaid poncho!  It's truly a styling wonder!  I saw another blogger (I wish I can remember who it was) who was going on and on in her insta-stories about these Michael Stars T-shirts and how amazing they were.  They come in short sleeve, long sleeve and sleeveless.  When I looked it up and saw the price my jaw dropped. LOL!  (I'm typically a $12 Target T-shirt girl)  So, I decided to wait until Anthropologie had a sale on their regular priced items and pulled the trigger.  I'm SO glad I did.  I have this T in both long and short sleeve AND in both black and white.  I get so much use out of them.  Ok, so you're saying the same thing I was thinking before buying it.  What makes it so special?  First, it's high quality fabric and there is a real nice stretch to them.  While the sizing (I think it's one size fits all) is a snug fit, it is not the least bit clingy.  What I'm saying is that it's quite forgiving!  I have NO idea why.  It kind of creases in the right places and conceals all your imperfections instead of hugging all the lumps and bumps.  That to me, is worth its weight in gold.  I know you agree! 🙂
I decided to throw my hat on after my hair was getting totally trashed in the wet snow! LOL!  I just picked this hat up at Marshals for like 10 bucks and it  happened to match beautifully and come in quite handy too!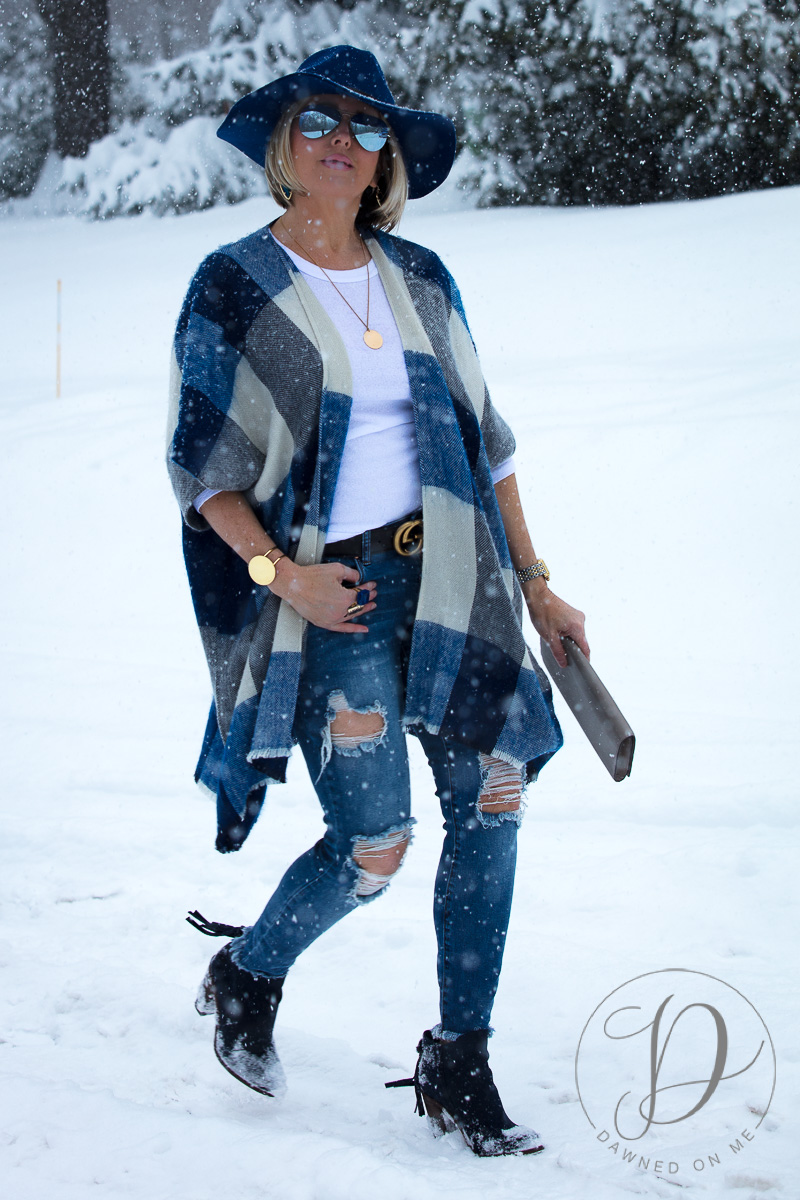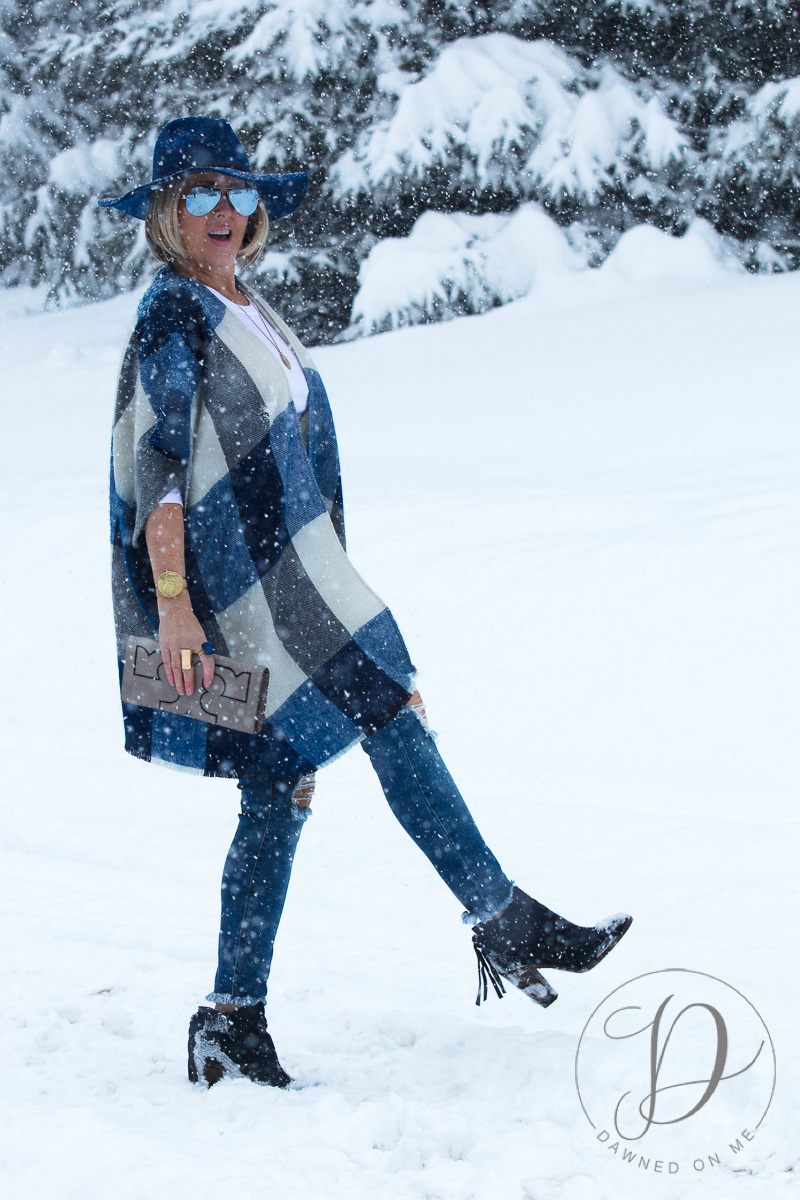 So… that's our snow day in a nutshell today!  Hope it's the last one!  Spring is starting to sound REAL good and if you've been reading my blog for a while, you know I love winter fashion over summer fashion…but sunshine sounds real nice! Patience…patience I keep telling myself.  Hope you have a GREAT weekend.  My boys are both playing in a tennis tournament.  It's the reason I bite my nails!  😉
Buffalo Plaid Poncho Here | Denim – Here | Michael Stars T-shirt Here | Ray-Ban Rimless Sunnies – similar Here | Hat- Marshalls -Similar here | Tory Burch Serif Clutch Here | Gold Cuff Ring Here | Coin necklace- mine reads: "good vibes" Here