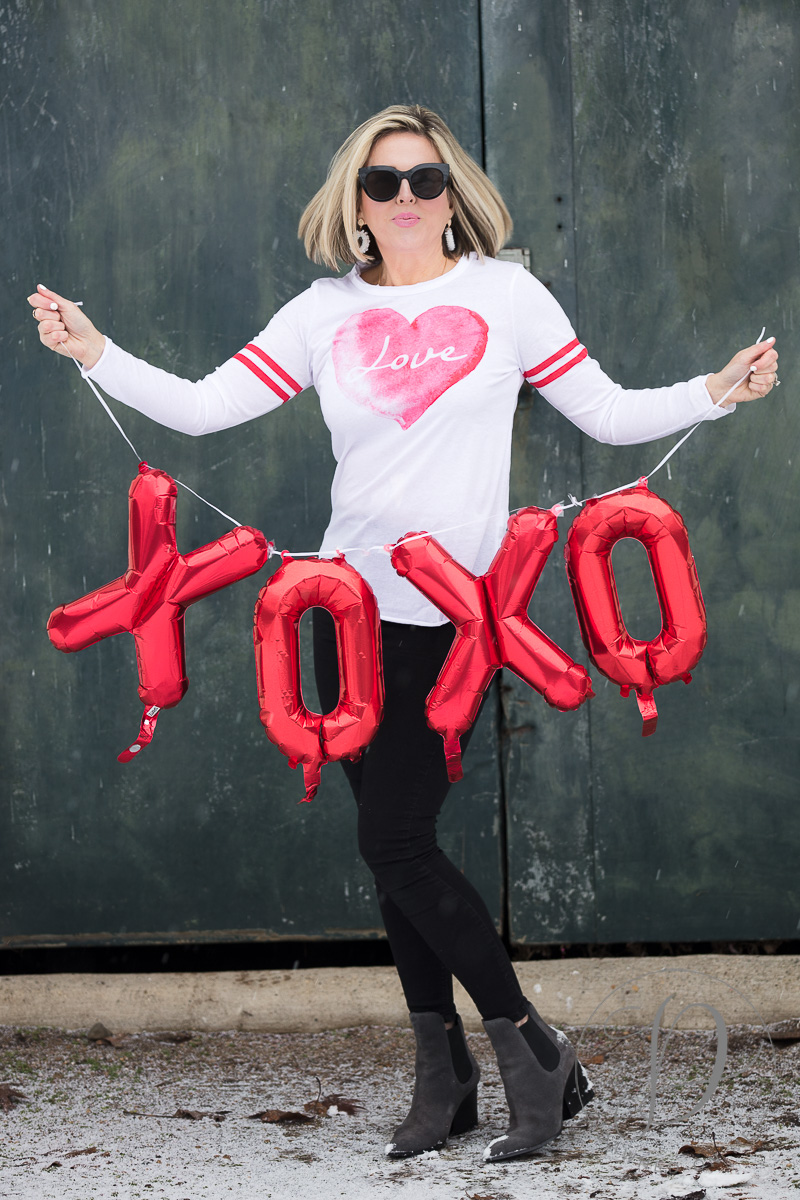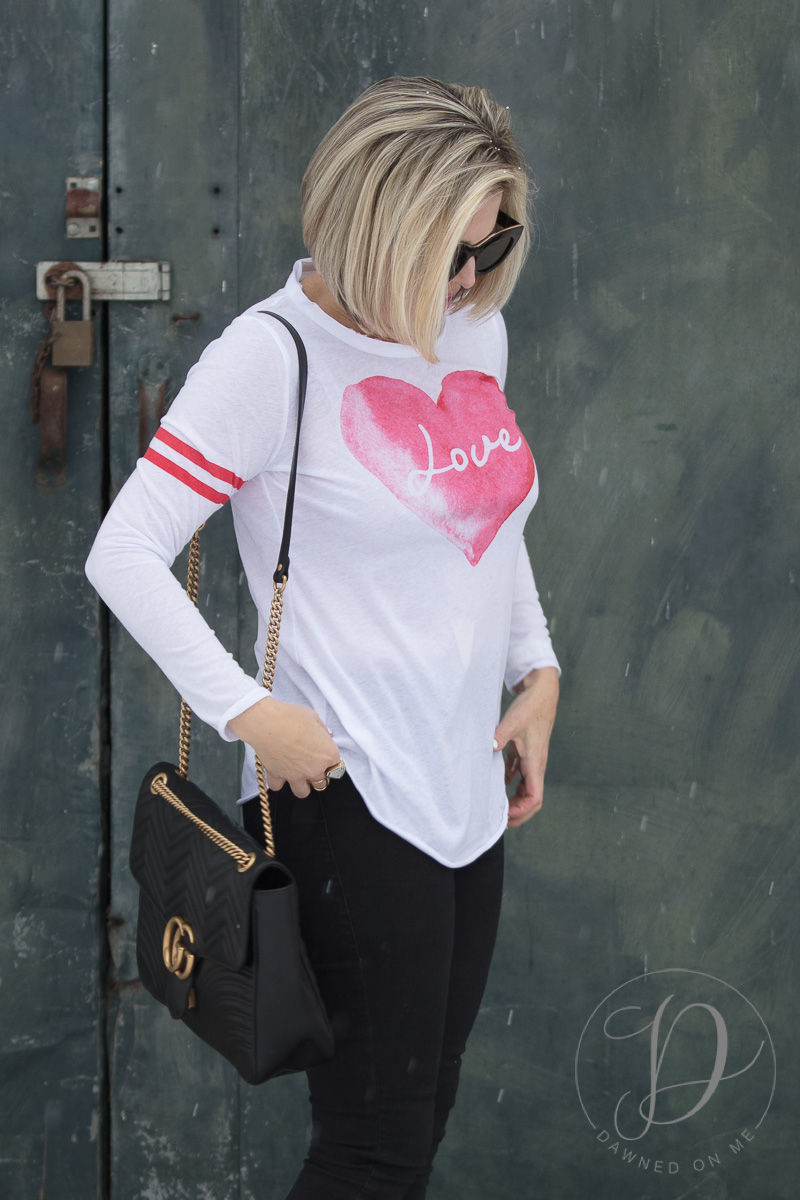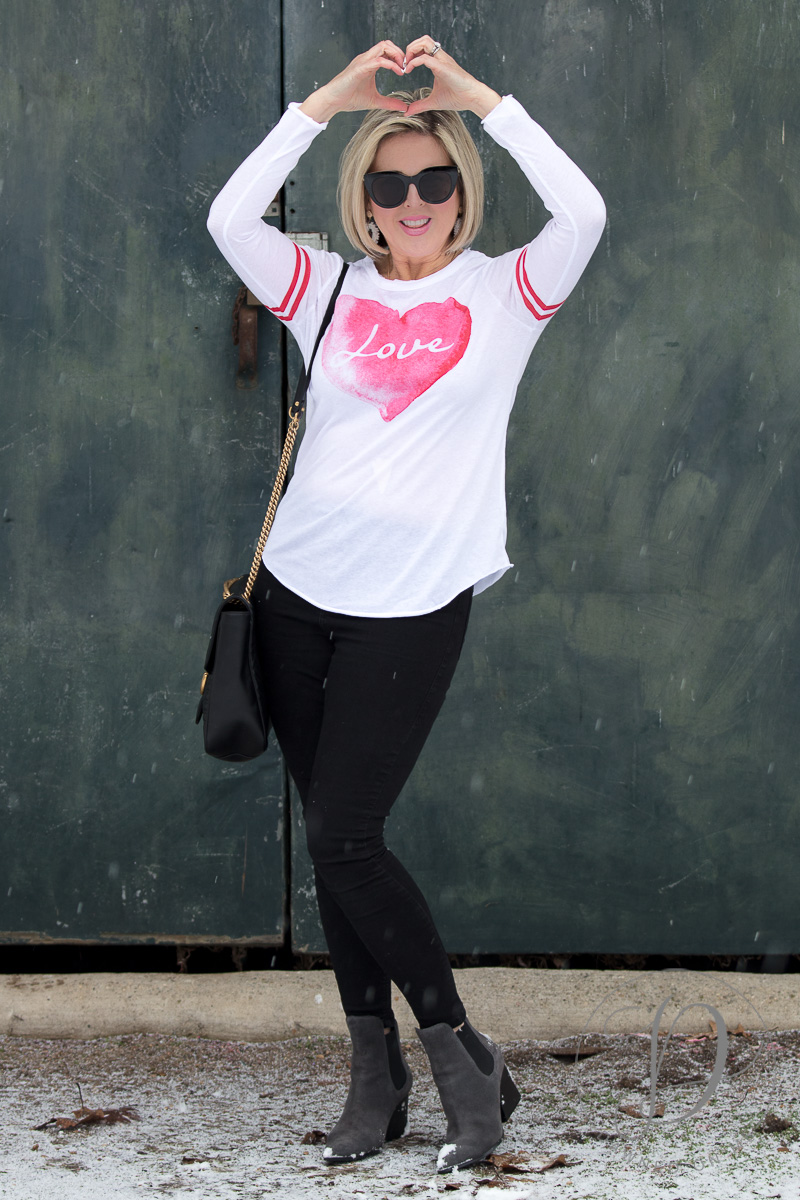 As we bid farewell to the final week of January (could it really have gone by so fast?) It's not too soon to start looking to February and Valentine's Day!  In the interest of full disclosure I'm not a real big Valentine's Day fan.  It's just another Hallmark holiday where roses and chocolates are well overrated.  Well, ok, roses are.  Lol!  I always tell Bill not to get me anything because I'm just too practical to spend 100 bucks on a bouquet of flowers.  But now that the boys are getting older, I strongly feel it's our duty as parents to teach them the importance of being kind, thoughtful and aware of days like Valentines.  So — Bill always takes them to the store so they can buy me a card and flowers of some sort.  I don't want them growing up to be clueless men but rather guys who take the time and effort to do something special for someone.  That's my duty and their wives can thank me later. 🙂
While I'm not big into whimsy fashion, I've always been drawn to shirts with hearts on them this time of year.  Back when I was the room mom at school and the boys were younger, I'd always wear my festive heart shirt or sweater to the class party and all the little girls would notice and comment on how much they liked it. (So cute!)
So I've put together some cute Valentine's Day outfit ideas for you below.  This top is super comfy and soft.  I'm wearing a medium for reference.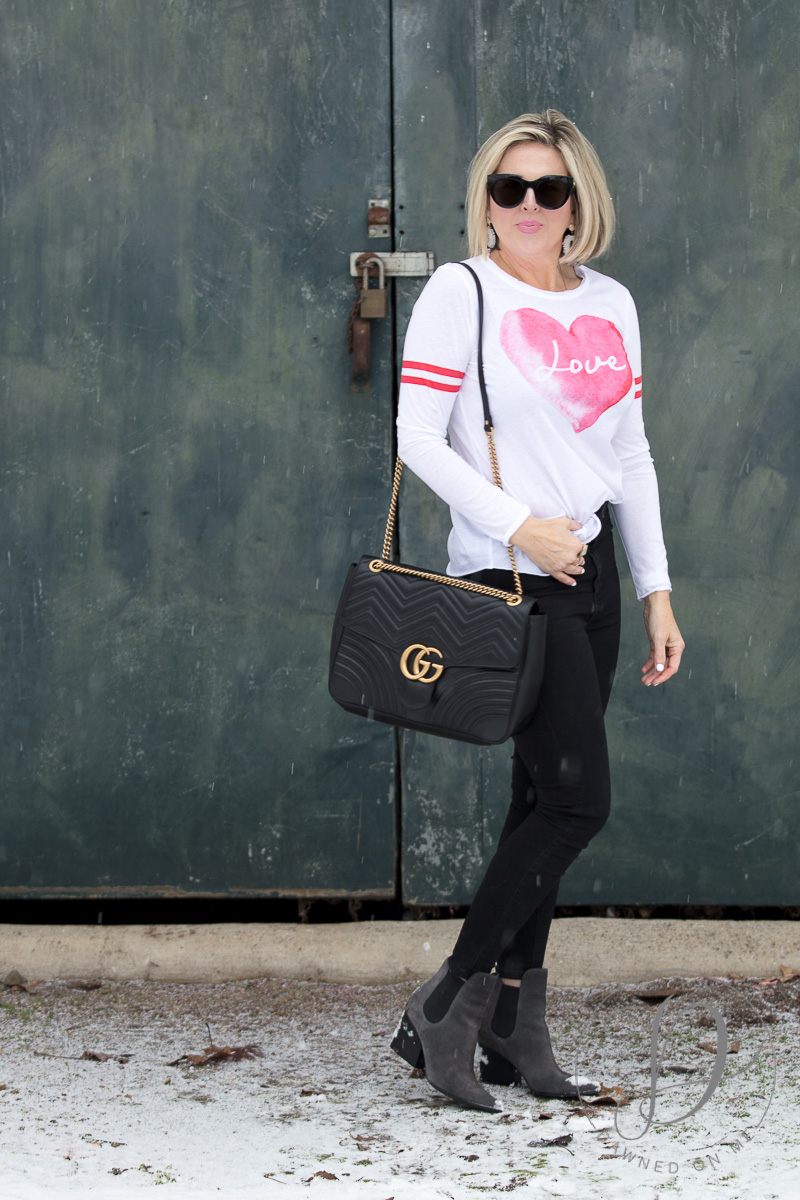 I also love this sweater from Target — It's lightweight and you can't miss the huge white heart on the back.
I'm also going to link a bunch of cute valentine's picks from shirts and sweaters to casual pj's in varying price ranges below: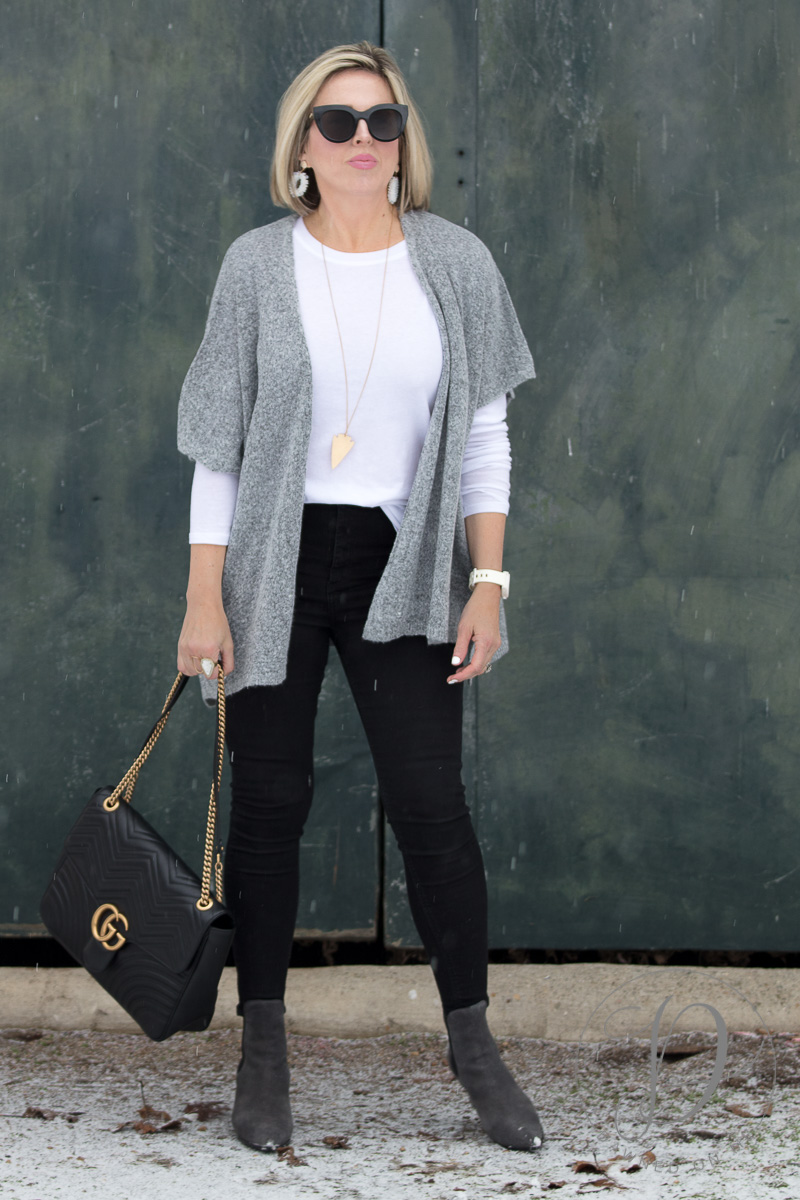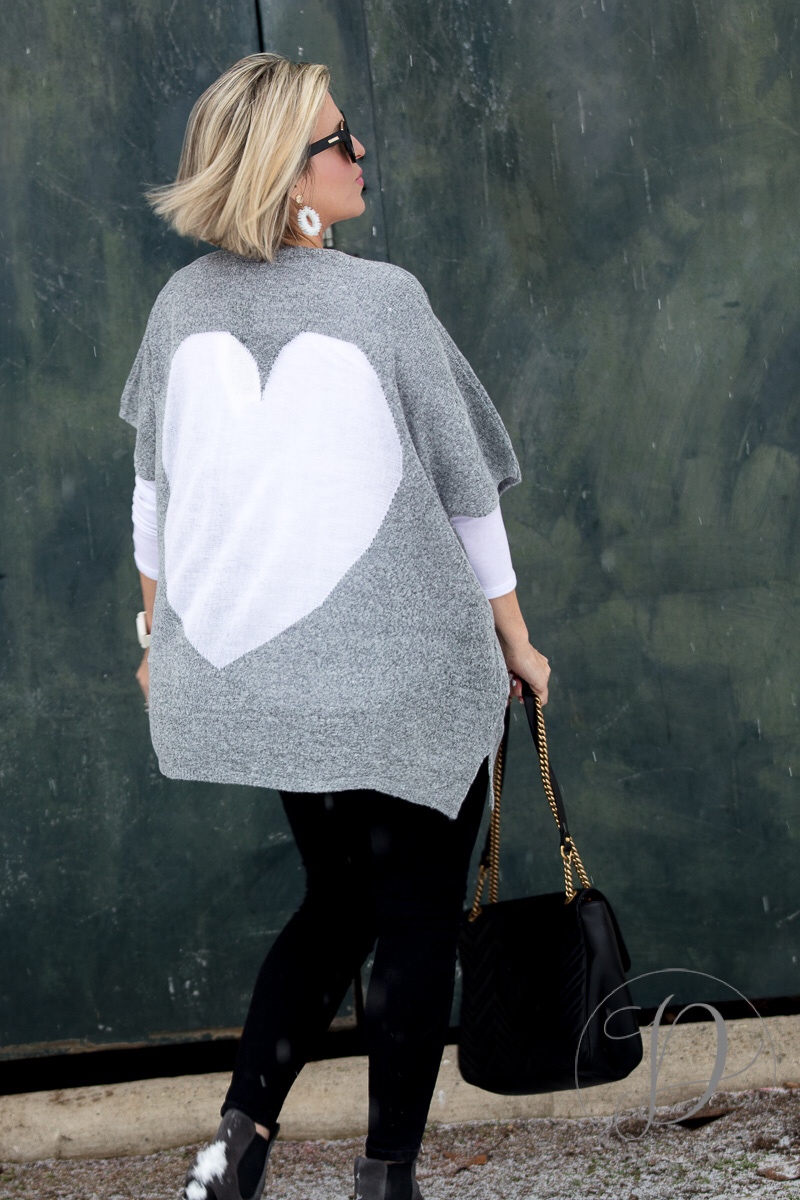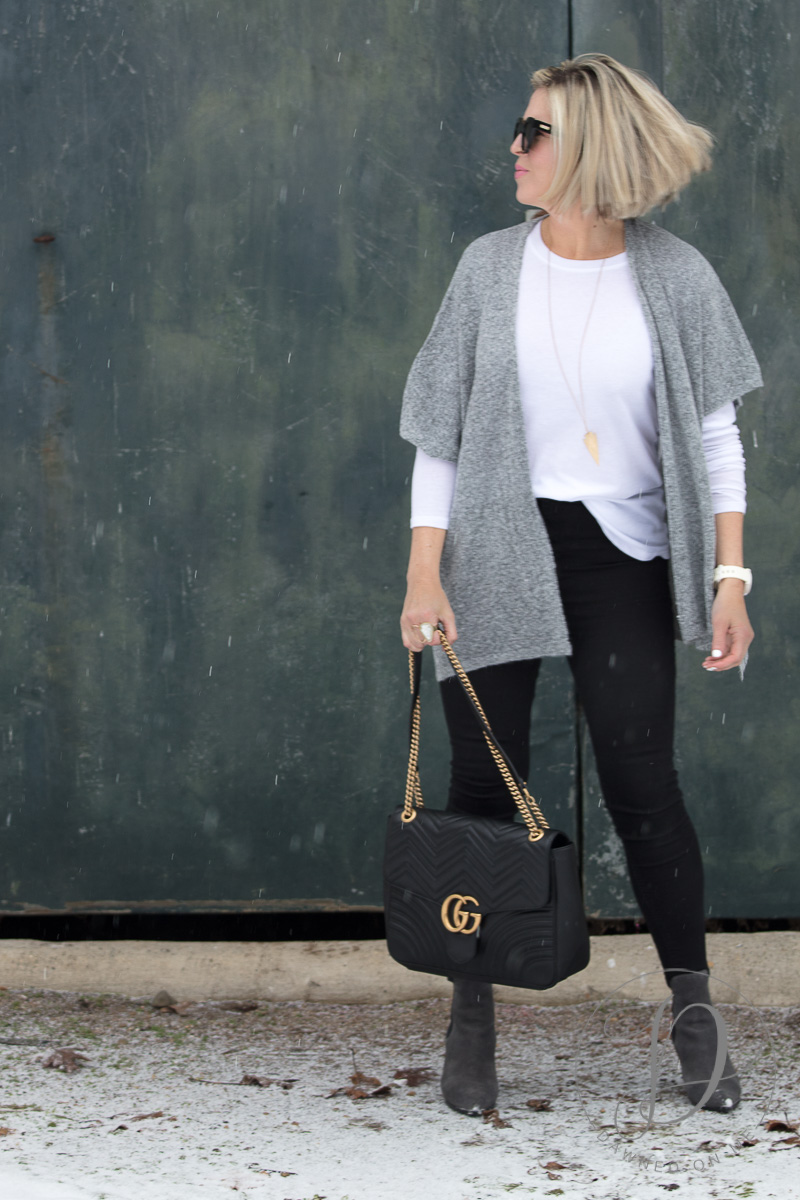 This heart shaped cut-out sweater is super cute and comes in both read and black
This sequin heart T-shirt is under $10!
This embellished heart sweater dress is perfect and under$50!
I love this foil hearts T and it's 40% off!  It's in my cart!
I LOVE this "love" sweater!  It's also 40% off!
These poplin sleep pants look so comfy and good!
This adorable flannel pj set comes with an eye mask and would make a great gift!
These heart stud earrings are awesome and over 50% off!
My Valentine's Tops Pictured:
White Heart T here | Grey Sweater with Big White Heart here | Booties here | Bag here | Earrings here | Arrowhead Necklace here | White Watch here on sale! | Sunglasses here (they sell out super fast and keep restocking)