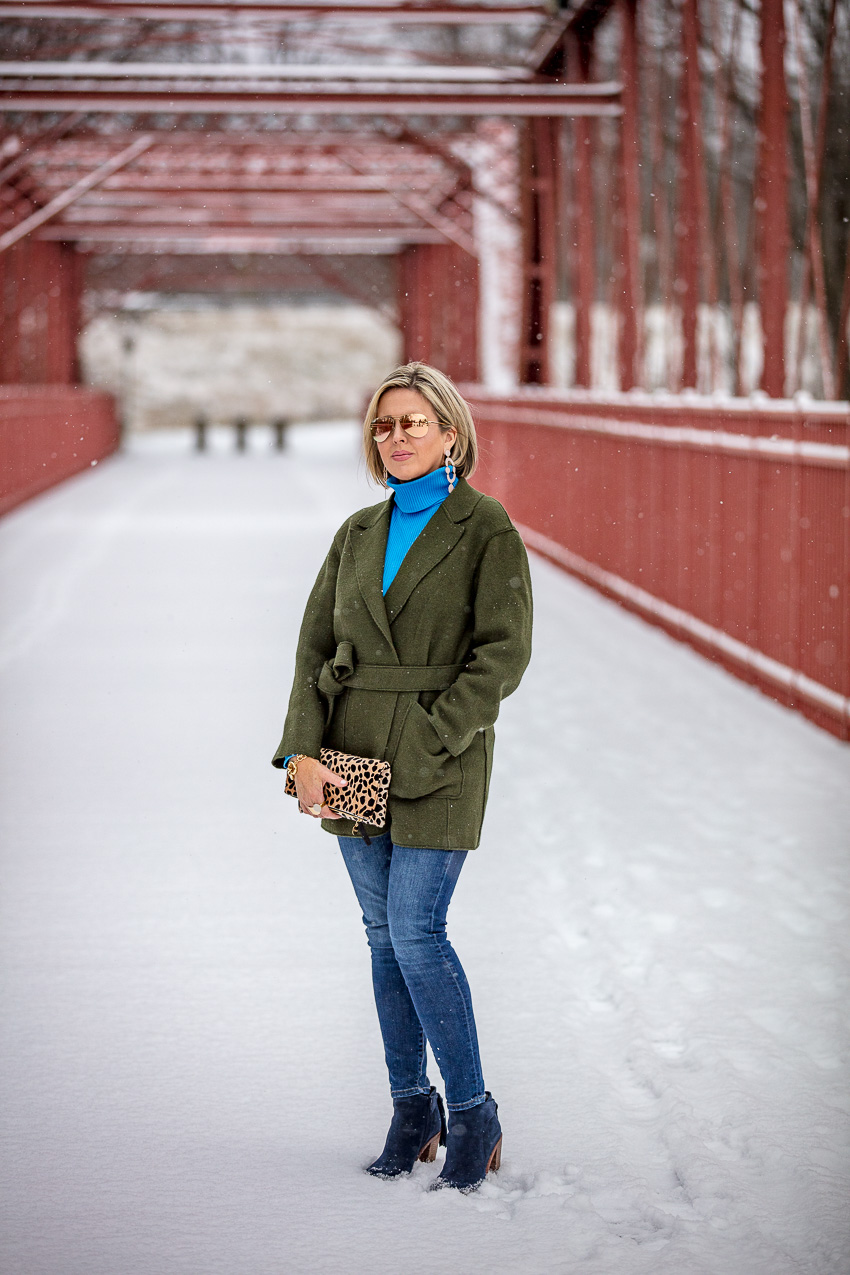 Hello Beautiful!  It's been a while!  I'm so thrilled to debut my new and MUCH improved website!  I just love it and I hope you do too!  I think you'll find it more aesthetically designed and hopefully easier to navigate as well!  I'm excited to kick off my first post on the new site featuring this gorgeous Jcrew wrap coat here.  It's boiled wool.  Typically, I'm not a huge fan of boiled wool.  Back in the day when I anchored the news, our wardrobe providers would give us a boiled wool jacket to wear on the air.  I felt like the Michelin man in it!  It was stiff and bulky and just plain old not very flattering.  I read the many positive reviews on the Jcrew website and to my delight they were right!  It's a thinner style boiled wool, soft and not stiff or clunky looking on.  I'm also not usually a big fan of the color (moss green)  but when I saw it on the model I thought it was simply gorgeous paired with this blue turtleneck (sold out) similar here!  (Want in on my little style secret?  I'm really not all that talented. LOL.  I love to find pretty and pleasing things and then enjoy the challenge of trying to emulate it.  I would have NEVER thought to put blue under this moss color so I let the real pros at the retail level do my work for me. LOL  The end result is an easily put together outfit that packs a pretty big punch style-wise and I'll always put my own twist on it in the end.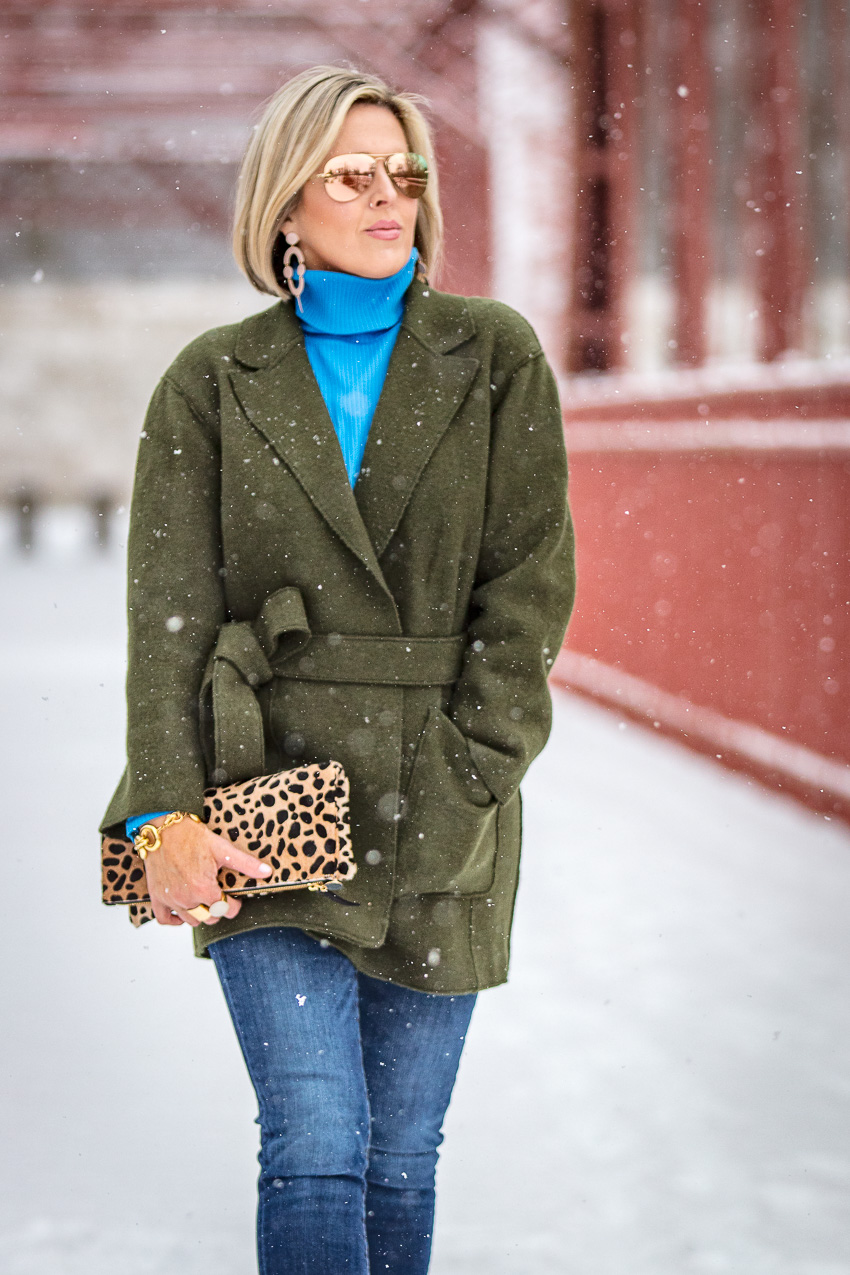 Like I said, even though I love to see things already put together for me, I always try to make it my own.  I often get tons of compliments from my Clare V leopard fold-over clutch here.  My Ray Bans here, I snagged on sale on Cyber Monday.  I don't think one can own too many Ray Ban aviators.  My favorites are the rimless ones.  They are super comfy and lightweight.  Some, I find are not comfortable and fall down my narrow nose. (It's a challenge because my glasses slip down easily!)  This pair is perfect and I love the color.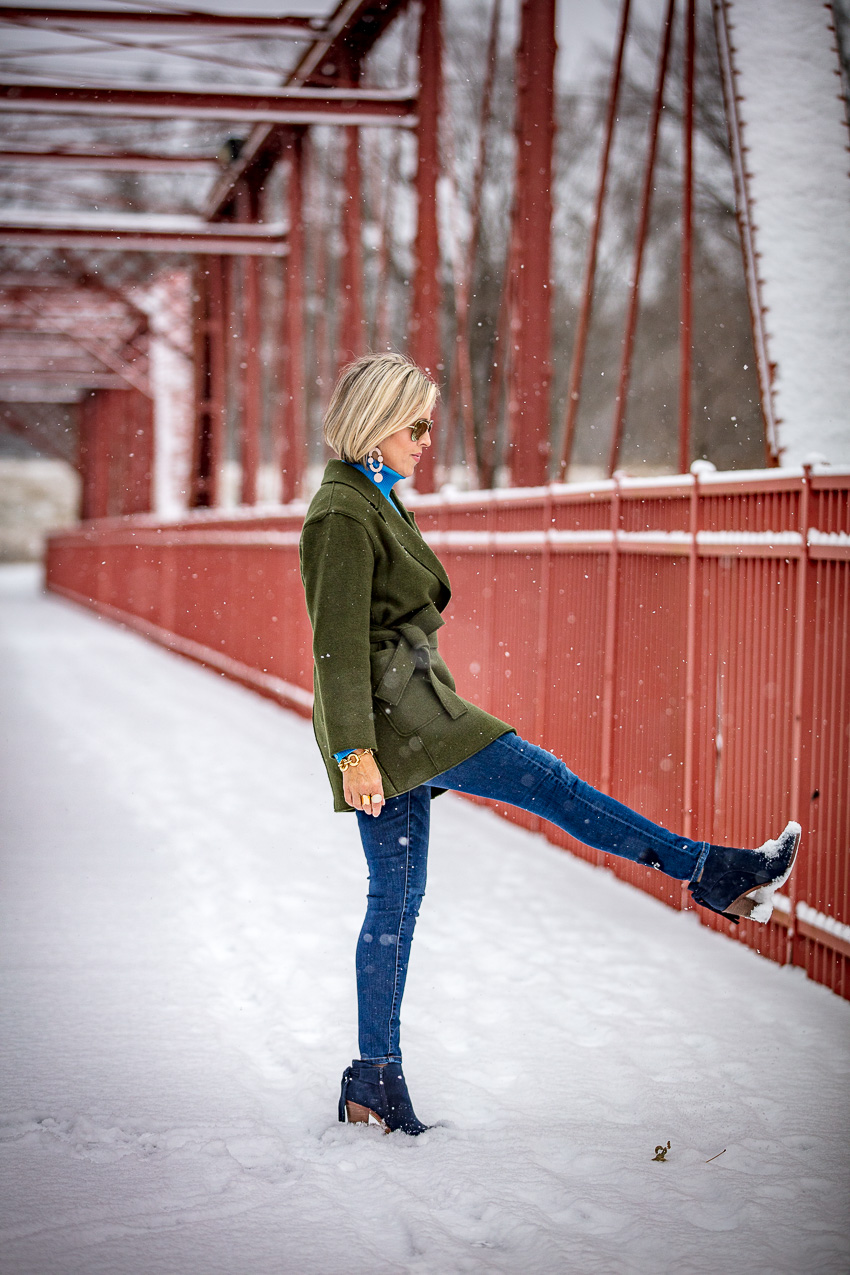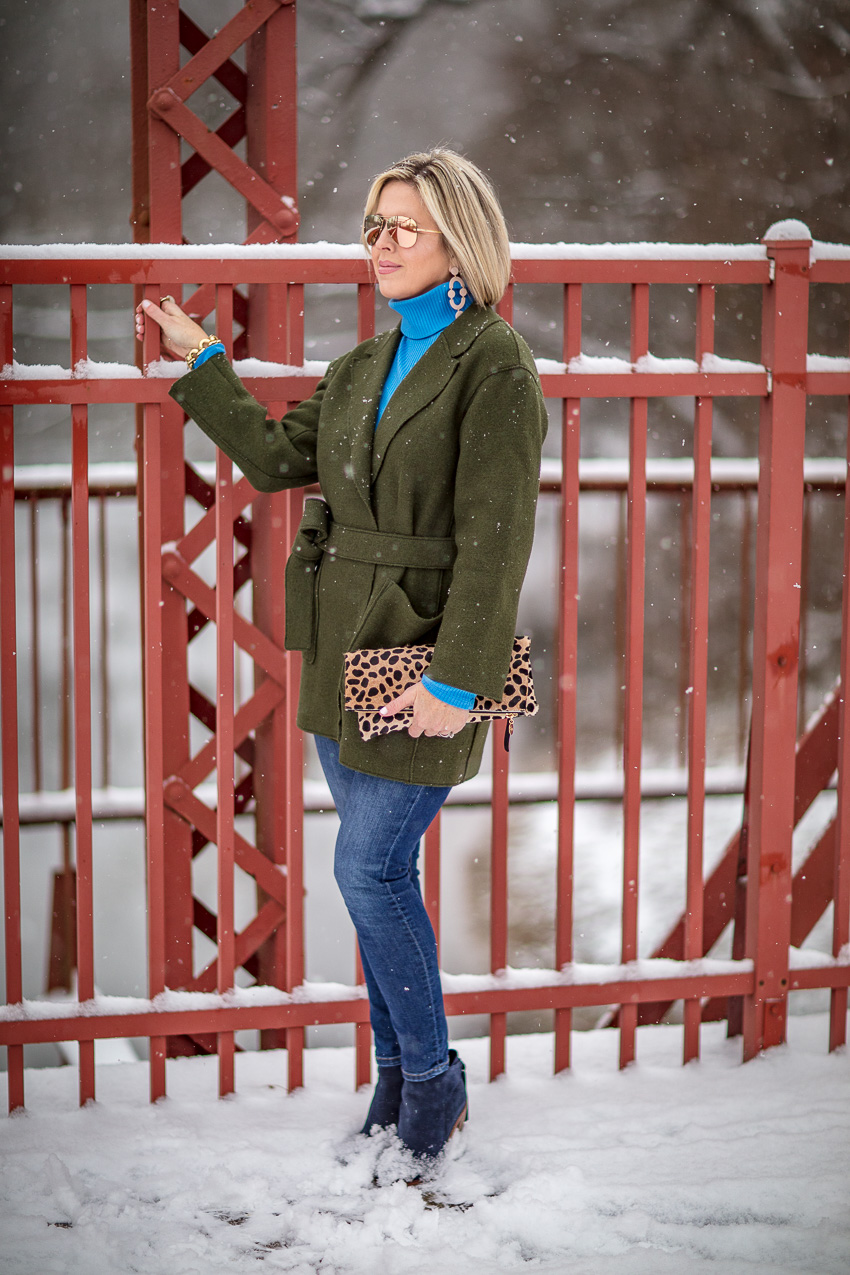 Beside this Jcrew wrap jacket and turtleneck, I also stocked up on some of Jcrew jewelry.  (Yes, I have an addiction and no, this is not a sponsored post ha!– but they had 40 percent off their entire site during Cyber week which is the best sale I have ever seen from Jcrew)  Stay tuned over the next few weeks.  I think you'll be seeing more great deals pop up!  I own so many blush tone pieces, I HAD to get these blush earrings here.   They are so pretty and lightweight and will go with almost EVERYTHING!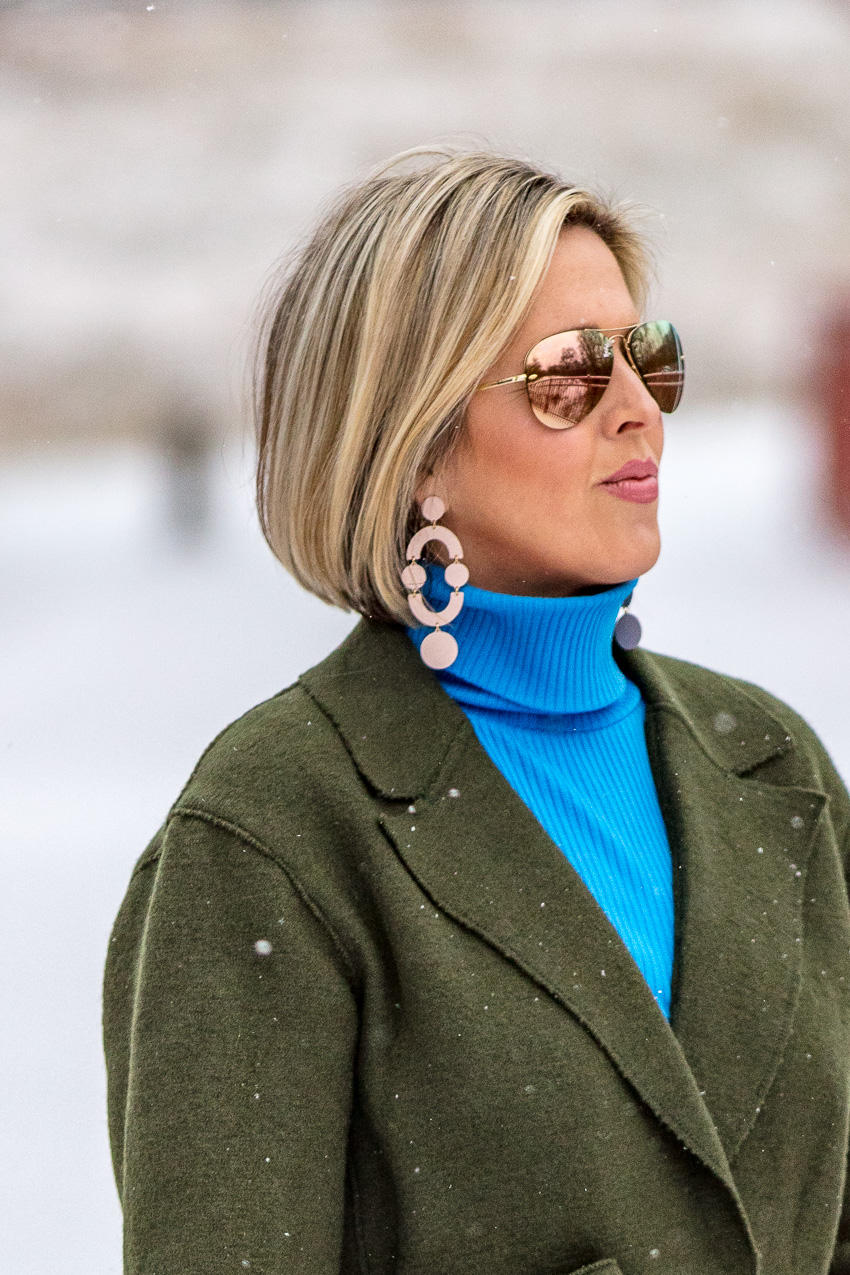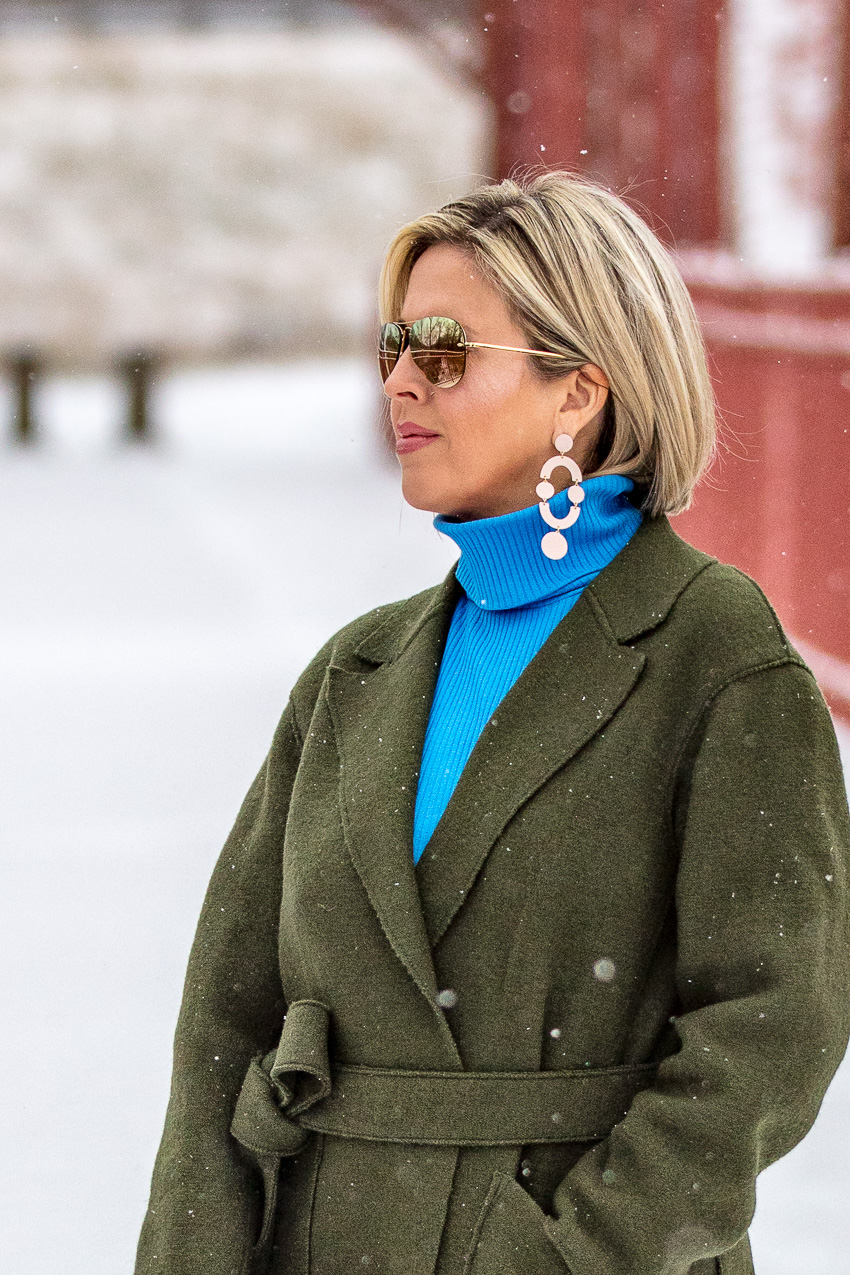 I get a lot a questions about my lipcolors.  My new favorite is Paper Doll by Tom Ford here.  (Oh, it's pricey but it will last a long time.  It's worth it.  Very creamy and long lasting) Lip liner: Dervish here  and topped with Dior's limp plumper here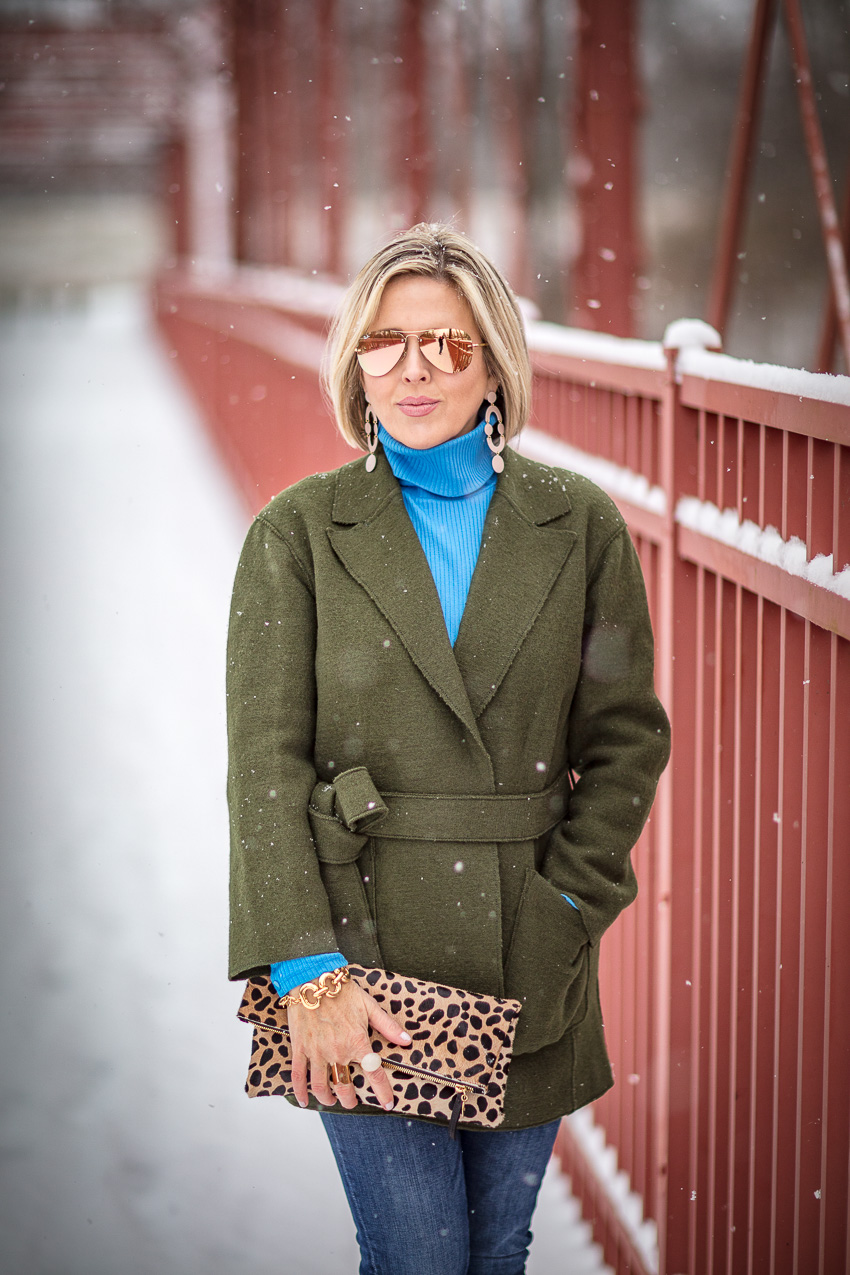 Hope you have a great weekend!  What's in store?  Any fun holiday parties?  We have one tonight but most of my weekend involves finishing up on last minute decorating details.  I've been only decorating for what seems like the past 2 months.  Really! It gets exhausting doesn't it?  And on a final note…. Also, please leave any comments or questions below.  This is a new feature of my site now and I'm excited and happy to answer questions and get to meet you!  Thanks for stopping by and please sign up for emails!  My latest blog posts will come straight to your inbox! Peace!
Jcrew Wrap Coat in Moss Green here | Turtleneck Jcrew (sold out) similar here | Lepard Clare V clutch here | Earrings here | Ray Ban sunnies here |