Greetings!  We are now down to the wire!  Are you ready for Christmas?  Each year I tell myself I'm going to plan and organize better.. but darn, time flies and here we are and I still am at it.  Wrapping, decorating, you name it!  Today's look will be perfect for us here in the Midwest in the coming week!  Even though it's been a bit mild the past few days, it's supposed to get very cold again!  brrr!  There's even some talk from our meteorologists that we might have a white Christmas!!  At first they were saying a dusting.  It's looking like it now might be more substantial.  Frigid air calls for a warm, cozy coat!  I've been looking around for the perfect leopard faux fur coat for a while now.  There are a ton of styles out there but nothing was jumping out at me until I saw this one here from BB Dakota!  It's as soft as a teddy bear — NO kidding!  I also love the softer, muted tone of leopard on this coat plus, you can just see how soft and fuzzy it is.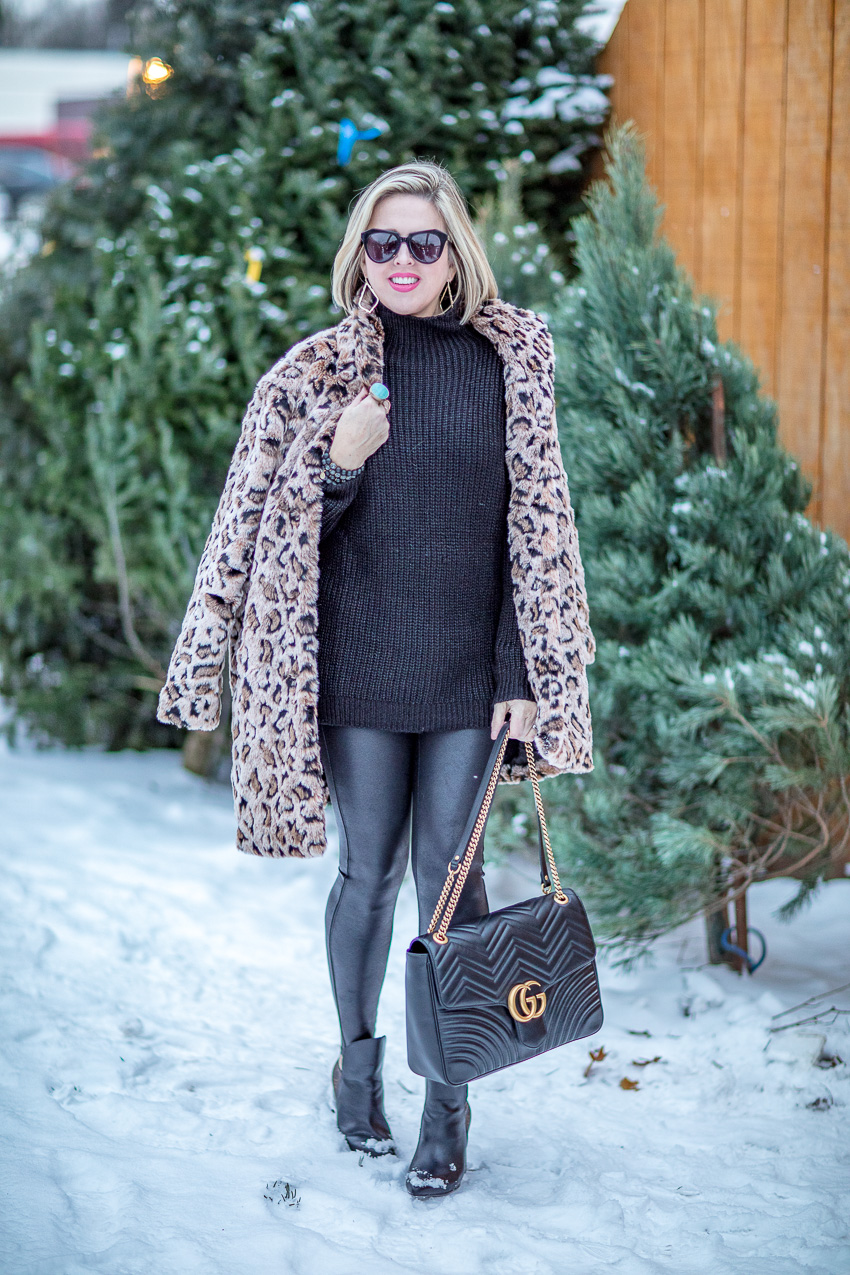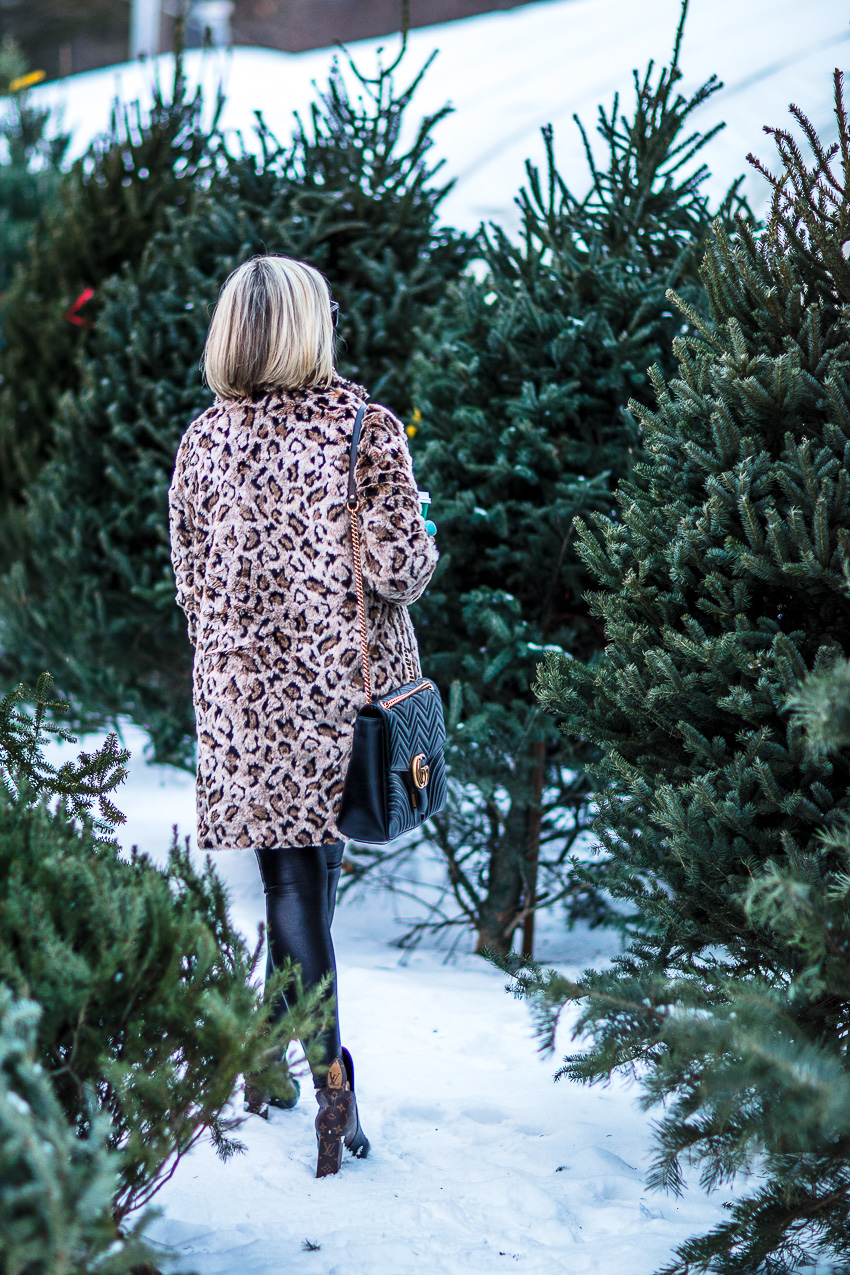 I currently don't have a ton of black in my closet but it's so essential to have some basic black pieces.  This black rib knit sweater here is comfortable and also very forgiving if you have one too many Baileys over the holidays.  Know what I mean? (wink, wink) 🙂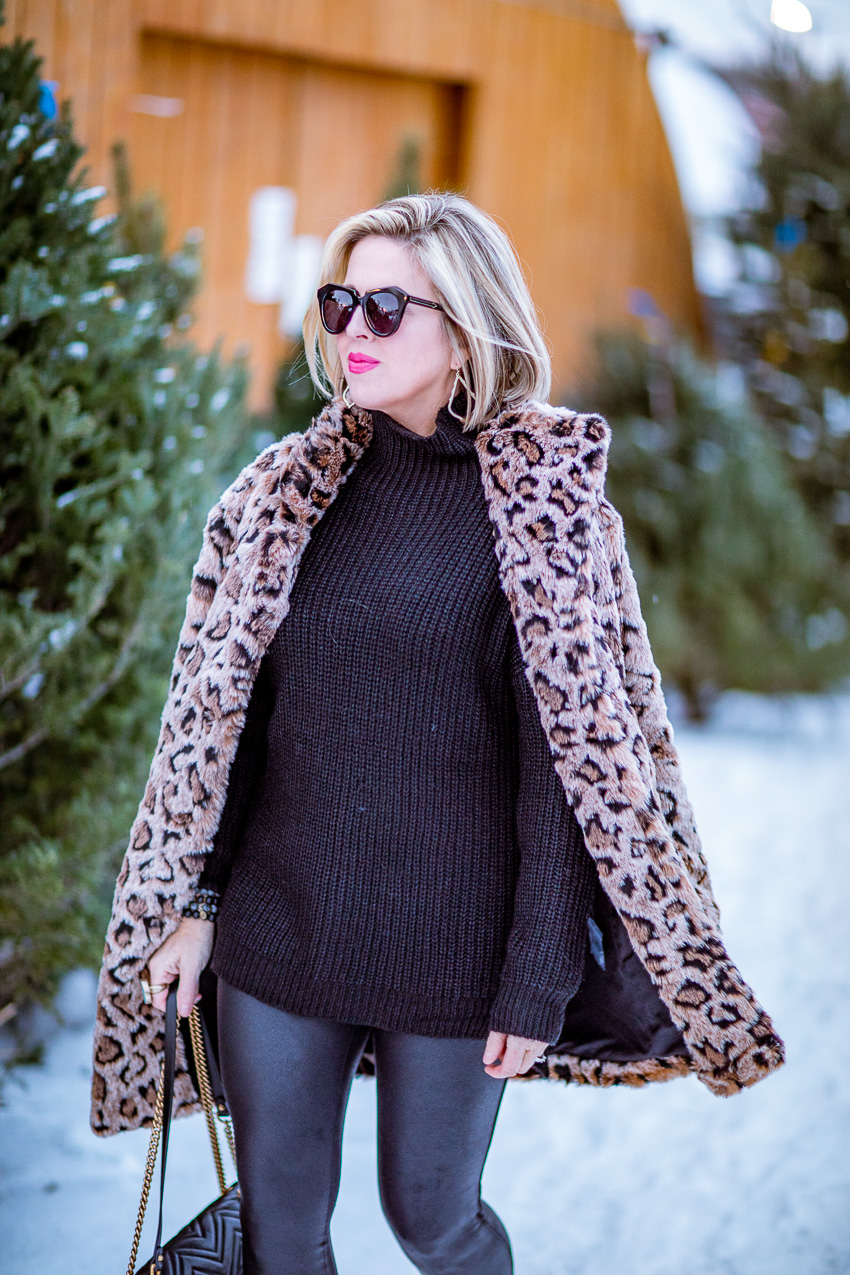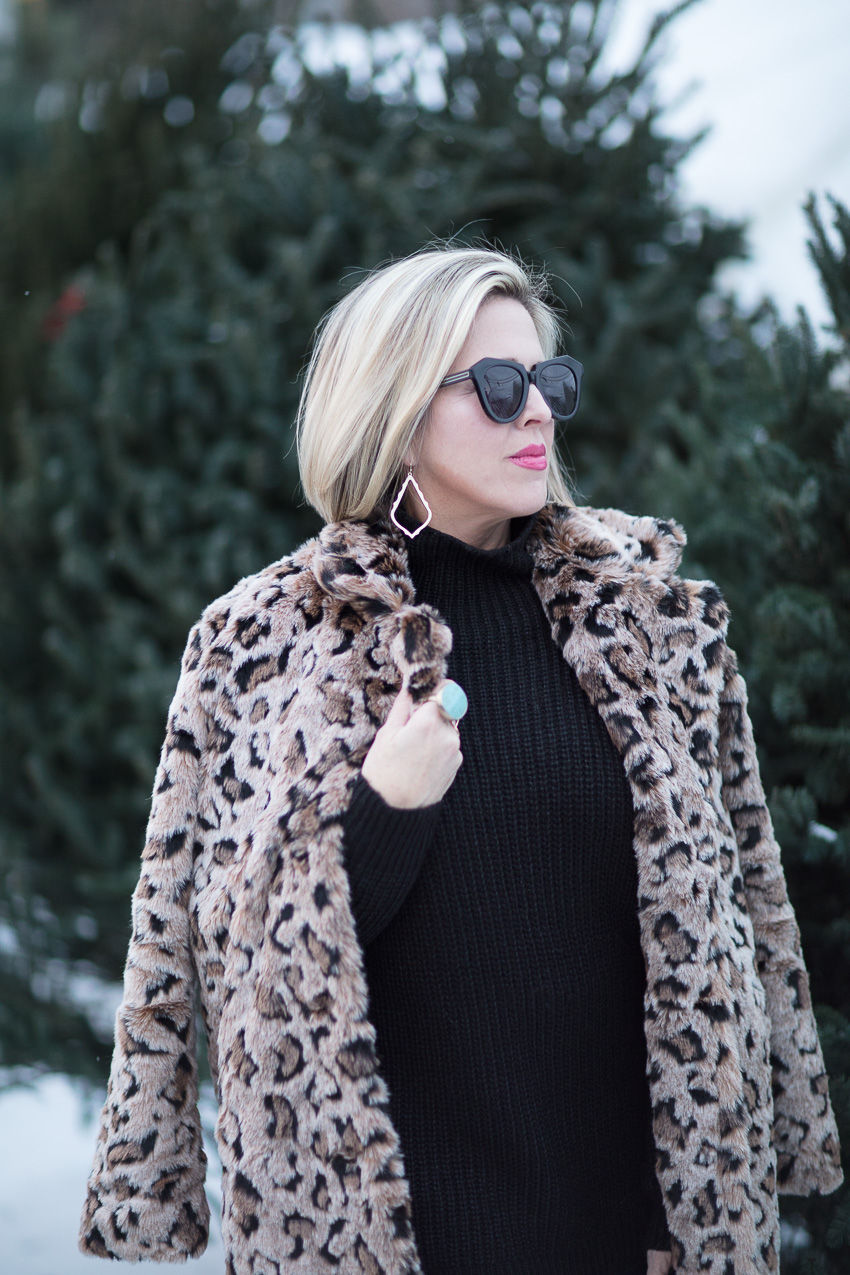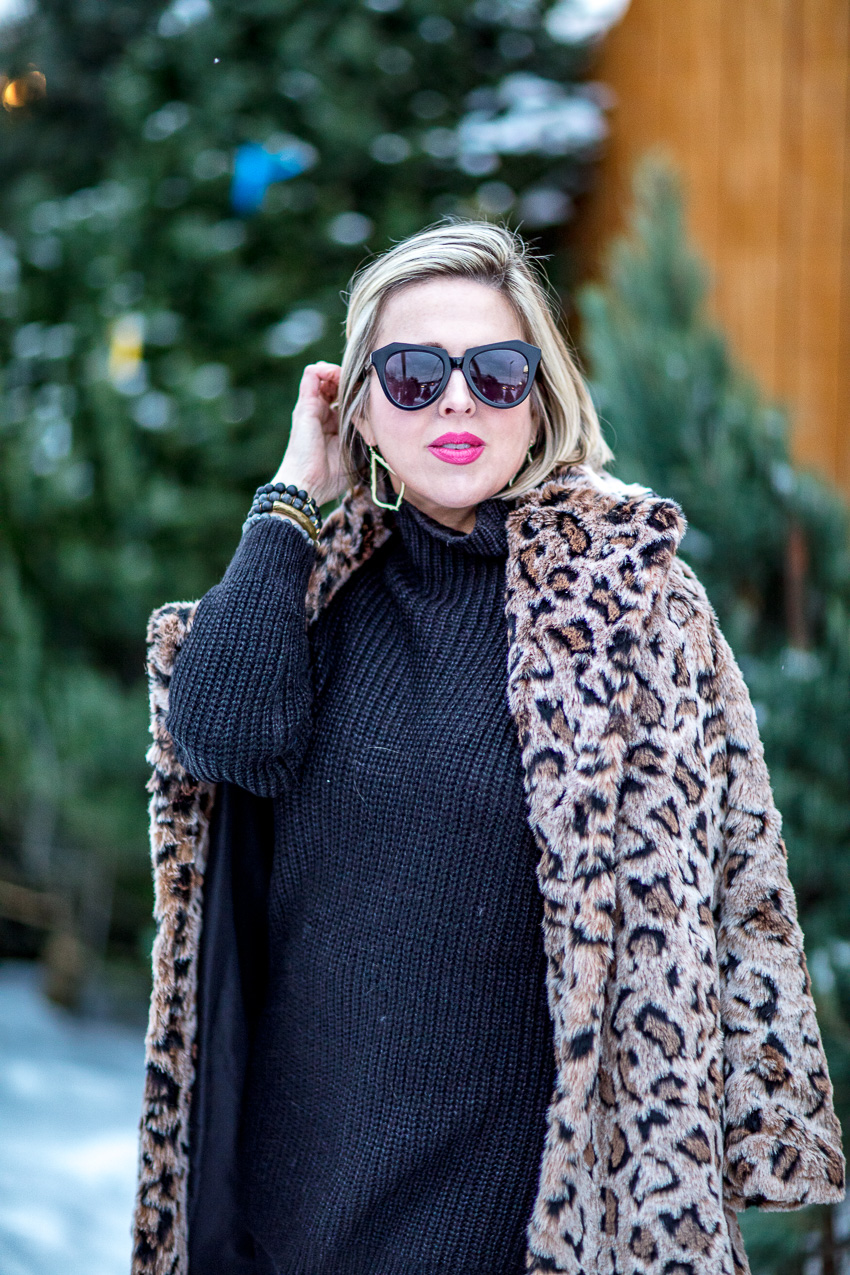 Another basic staple is a good pair of black leggings.  This high waisted pair from Spanx here is gorgeous on and so comfortable.  I also have a basic cotton version here by Zella that I really like as well.  Anyone who owns a pair of these will tell you they are worth the investment!  I really like the faux leather because it just knocks the look up a notch and they come in other colors as well!  I highly recommend!!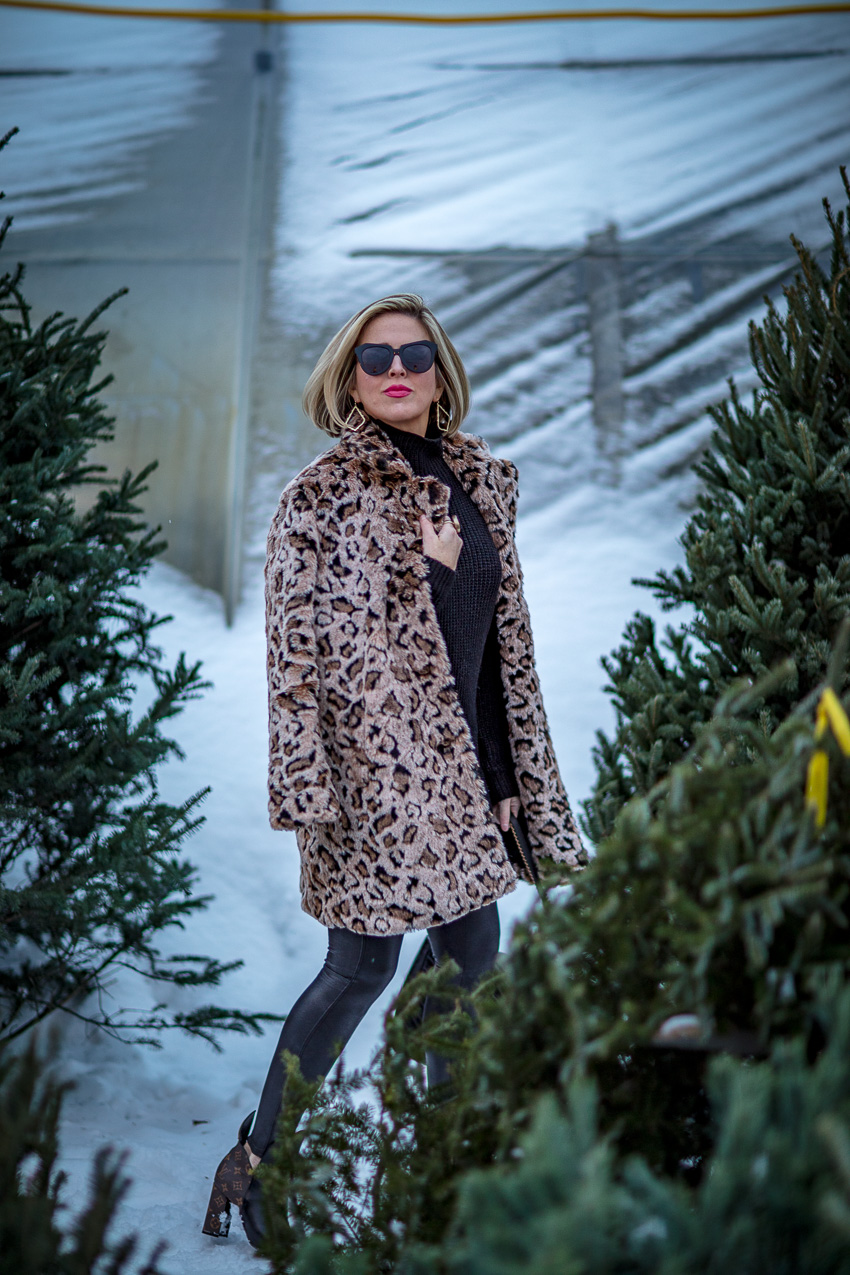 Hope everyone has a wonderful weekend and a Merry Christmas.  I'm going to try to get a quick holiday home tour post up but don't hold me to it.  Lol!  I'm making Christmas dinner and have a lot to do!  We're doing a beef tenderloin and a ham.  What are you making?  Thank you for stopping by to check today's post.  Please comment below.  I love keeping in touch or answering any questions you might have!  Peace and love!
Coat (also love this one)  | Leggings here (similar and more affordable style here) | Sweater here (similar here and here) | Bag | Turquoise ring old Chicos (similar here) | Earrings | Sunglasses | Lipcolor – Electric Pink | Gloss – Sheer Pink